FIVE du creek blanc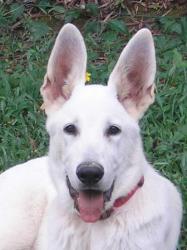 Pedigree (database)
Né le 06 janvier 2010. Born 6 january 2010
Né de la première portée de Brise et Cody. Five va essayer le mordant en ring. Born from our first litter with Brise and Cody.
Déjà 20 Kg à 4 mois!! Already 20 Kg at 4 month!!
Maintenant 6 mois et 26 Kg taille plus de 56 cm , il dépasse sa maman. Already 6 month and 26 Kg , heigh more than 56cm, toller than mama
Exposition canine à Bourail le 14.08.2010 : très prometteur.
Exposition canine au Mont-Dore le 10.04.2011 : Excellent et 1°, confirmé.
Le 3/08/2014 a obtenu le CSAU.
Ocotbre 2017 Brevet obéissance.
Five et son père Cody. Five and his father Cody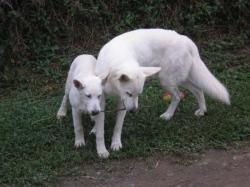 Moi jamais sale !!!! mars 2010
Mai 2010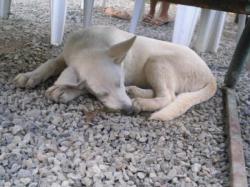 Allez lance le jouet Février 2011